Shama Sukul Lee is a qualified Software Engineer turned Food Technology Entrepreneur. She is the Founder of Sunfed, a company that uses clean technology to make flavorful meats without harming animals and the planet. Lee has a vision to create a highly scalable regenerative protein company that can feed the world through sustainable practices. She believes small changes in the food system can significantly impact the world.
Shama Sukul Lee is an engineer born and raised in New Zealand. Her journey began in 2012; she said, "I was feeling really unfulfilled, and so much so that I couldn't get up and go to work." She continued, "I wasn't doing what gave me meaning."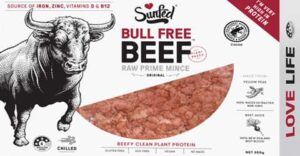 That's when Lee decided to take a year off from her role as a Software Engineer. "I had a bit of an existential crisis. I started to feel unfulfilled, unsettled and hollow," she said. She took this time off, and shut herself off from all social media sites, and took time off to think deeply about her purpose in life. Coincidentally, she was also on a personal journey to eat less meat. "I was a huge meat eater; I grew up eating meat," said Sukul Lee. "When I gave it up, I struggled. I relapsed a few times. I was not very well versed in eating other kinds of foods because I think eating meat makes you lazy. You have to figure out what food to eat, I was completely ignorant."
In a process common to many startups, the personal coalesced with the professional and a new business was born. She founded Sunfed Foods by raising $10 million in funds and gathered a group of employees to help her manufacture a product that would be an excellent alternative to meat.
"Everything I went through was not like the texture of meat, it was more like tofu," said Lee. "With meat, there's a mouth feel — the bite, the texture, and I was missing that quite a bit."
She was determined to create a product with high protein, low carb and nutritional benefits of meat while using natural and simple products available. After Lee struggled with letting go of meat, she was eager to not come from that place of judgment or preachiness. Lee said it is important to her that she and her brand aren't preachy regarding veganism. Lee said, "I am not judging your diet choices, and I don't consider Sunfed a vegan brand. Instead, Sunfed's simply offering consumers a choice."
She continued, "Everyone's saying we're eating too much meat, but no one's really putting forward a solution for it. I didn't want to be part of a campaign of judging and preaching. I'm a solutions architect."
The energy consumed in the food production industry eclipses all other sectors, including transport. "As the industry is more intensified and grows in scale, the risks also grow – of damage to soil, water, deforestation and food safety. It's the definition of unsustainable," Lee admonished. Her small team, including her husband Hayden, set out to find an alternative, which could be sustainable even as it scaled up. They landed on yellow peas for the chicken-free vegan meat, which is a fast-growing crop and doesn't require excessive water or negatively impact the soil.
The fake chicken meat is made from a shortlist of ingredients, including natural yeast extract, maize starch, pea protein, rice bran oil, pea fibre, pumpkin and water. However, Lee says the magic lies in her specially made machines that give the plant proteins more structure to mimic animal proteins and taste better.
"I was forced into hardware engineering to solve the problem," Lee said. "We had to design and build machines … we had to try so many combinations of ingredients to get the right ones, and the more minimal you get, the harder it gets."
By 2017, her chicken-free vegan meat was sold at two of New Zealand's biggest supermarkets and was set to launch in Australia, along with a beef-free burger that was soon a best-seller. "The reason I keep going is because my mission is much bigger than me," she said. "My intent is to leave the world better than I found it."
Sunfed then launched its new bacon product in 2020 to keep up with the growing demand for animal-based bacon. "We launched it at Meatstock 2020, a live music and barbeque festival, of all places. The hardest audience you can find. And we were the most popular stand. I had bodyguards and I didn't need them!" Lee said. It passed the taste test even with the harshest critics, emerging victorious in the plant-based meats industry.
While sustainable food technology is an area for unprecedented growth, Lee believes that there are multiple areas where startups can use the power of business for positive change. Lee said, "COVID-19 clearly showed what is essential to humanity. I advise entrepreneurs to consider what the real foundational aspects of humanity are and transform those." She continued, "That is the biggest bang for buck, that will make the biggest difference."
Lee describes entrepreneurship as a personal journey, requiring reserves of energy and self-knowledge. "Starting a company means you're constantly being stress-tested," Lee says. "There is one challenge after another, and you have to learn to enjoy the process or you'll crumble with the pressure and fast pace."