Diversity and inclusion in the workspace are the key pillars to success in a modern company. It shows that the organisations value the individual strengths and insights that employees from different backgrounds possess.
One company that has been making waves in the corporate world for its exemplar diversity and inclusion programs for several years is Marriott International. With over 7,600+ hotel properties and 30 top hotel brands in 133 countries and territories, Marriott International is one of the world's largest hospitality brands.
Not only is this multinational company an outstanding place to vacation, but it is also an outstanding workplace. The company was named as one of the 'Fortune 100 Best Companies to Work For 2021' and 'World's Best Multinational Workplaces 2020' by Great Place to Work and positioned in the first place on DiversityInc's list of Top 50 Most Diverse Companies in 2020.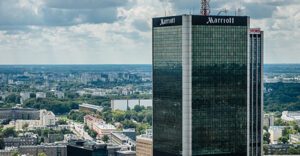 Let us take a look at what makes Marriott a leader in diversity and inclusion amongst corporates.
Growth Targets And Goals
Though Marriott International is already an incredibly diverse company, they constantly set goals to improve themselves. They currently include 800+ open hotels owned by women and diverse partners, in fact, women-owned enterprises make up approximately 10% of Marriott's supply chain, but their current goal is to increase it to 1500+ hotels. As a multinational company, they also conduct business with over 4,000 diverse-owned companies annually and have vowed to spend $1 billion with diverse-owned businesses in 2020. Setting a goal to increase diversity in the workplace will help your company strive faster towards it.
2. Diversity Programs and Initiatives
One of Marriott International's core values is 'putting people first', and they do that through their numerous programs and initiatives. For example, in Africa, Marriott International's The African Pride Crystal Towers Hotel and Spa collaborates with Infinity Culinary Training, a non-profit chefs' school to train students. The Kigali Marriott hotel also offers internships programs to the students of Akilah Institute for Women and have hired several graduates in supervisory positions. The company also has a long-standing partnership with over 30 diversity organizations that aid them with their diverse supplier program known as Exchanges.
3. Incorporate All Types Of Diversity
Companies often chalk diversity down to race and gender, but it is so much more than that. Creating a generational workforce and one that embraces people with disabilities is just as important as a racially and gender-balanced workspace. Over the past two years, Marriott International has scored 100 on the Disability Equality Index and been named as one of the Best Places to Work due to their disability inclusion. The Marriott Foundation's Bridges from School to Work program has helped more than 19,000 young adults with disabilities find jobs in America with more than 4,800 employers, including Marriott International.
4. Create A Safe Working Environment
Fostering a safe and empowering environment for current and future employees is one of the best ways to prove that diversity and inclusion truly matter to your company. For example, in the summer of 2020, Marriott International's CEO and Global Chief Human Resources Officer joined other senior leaders for a series of virtual town halls called TakeCare Community Talks. They encouraged associates to share their ideas on how the company could build on their efforts to fight racism and create real change. Talks such as these provide employees with a platform to voice their opinions and feelings on issues that directly concern them. Companies can then use their feedback to implement strategies to improve their diversity and inclusion initiatives.
Having a diverse workforce helps your company represent the world we live in. It also shows your customers that you value all kinds of people equally regardless of their race, gender and disabilities. As Thomas Berry once said, "The greater the diversity, the greater the perfection."