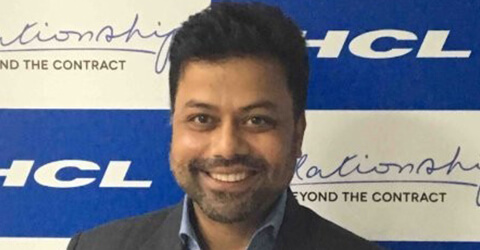 The Omnipresence Of Technology For Digital Dwellers – Is One-Click Shopping For Retailers Hitting High?
Written by Vijay Verma
Vijay Verma is an Executive Vice President at HCL America, Inc. and currently heads the Retail and CPG business units for the North Americas. A global business leader with 25+ years of experience, Vijay has a proven track record of unleashing year-on-year profitable growth for his retail and CPG clients which include several F500 companies. Vijay specializes in creating business value for his clients through strategic transformation programs that increase effectiveness, efficiency, and customer delight.
As per Statista, almost 80% of online shopping orders never saw the light of the day, i.e., were abandoned. Again, automotive leads the way with a massive 89.11% score, whereas the lowest was for groceries at 61.13%.
The situation is becoming more precarious for eCommerce businesses every passing year. So, they are continuously trying to reinvent or optimize the buying process to induce the retail customers into buying more or, to say, complete their orders.
A new payment paradigm is emerging in the current scenario where payment is no longer seen as a bottleneck. Instead, eCommerce retailer brands are trying to use it as a weapon in their tryst to woo customers. Given the omnipresence of technology throughout the process, it was evident that they need to market it as one of their partners if they are to gain traction.
Initiatives like one-click checkout prove they want customers to become a vital part of the payments landscape and help them bring holistic changes that would help curb cart abandonment. The focus is on creating a superlative customer experience to help drive more sales and improve customer loyalty.
But are retailers convinced of the idea of one-click checkout, and are they willing to adopt it as the new normal. We discuss it all in this article.
The move from selling more to selling with a cause
Amazon was the first to visualize 1-click checkout back in 1999, and they quickly filed for a patent. But even Amazon's Buy Now with 1-Click isn't a one-click checkout process even today and is only a curtailed version of what they generally do.
Such has been the experience for digital dwellers for a considerable time now. Most Buy Now CTAs involve multiple steps to place an order depending on the brand or the eCommerce marketplace. It has forced people to no longer think that clicking on the link would be the second last thing they do. While they are prepared for the grind, it doesn't come without consequences.
While eCommerce giants have tried to streamline the process and make it work as advertised, they have had mixed results and haven't achieved much. It even forced them to alter other facets of buying to make it more appealing to retail customers.
One example would be the shift from selling more to selling with a cause. Until a few years ago, bundled offerings were the most popular in the eCommerce space because they allowed brands to sell more without wooing the customers for each product individually. But they have started realizing that the approach may not be as cost-effective as initially purported, leading to them losing their invaluable customer base.
So they sat on the roundtable to understand who their customer was and the best way to retain them? They realized that customer expectations are changing and that they need to be present everywhere their potential consumers are. The pandemic had supercharged the move from brick-and-mortar-focussed customers to those willing to use online and offline channels for an improved experience.
It led to brands shifting from pointless bundles to suggesting customers things that they may find worthy without forcing them to buy the additional items in any manner. It also paved the way for them to brainstorm about modern ways to sell more without jeopardizing the customer experience.
The result? They decided to undertake seamless data unification and channel expansion across channels and focus on technologies or solutions that could help them optimize omnipresence while offering ease-of-access and frictionless payment options to the end customers. One-click checkout was one of the solutions that seemed feasible. That led to 1-Click solutions from brands such as Bolt, Fast, and Bold becoming a viable option to bank upon for eCommerce brands.
A move towards contactless payment is further helping the cause
The world is on the brink of another major revolution, and this time it would be in the way payments are being made. While the idea of digital and contactless payment had set foot several years ago, it was yet to reach the level of traction that would make it a true contender in itself. But all of it changed with the arrival of the pandemic.
Today, data shows that retail consumers are moving towards adopting frictionless payment methods with greater ease than merely two years ago. As per projections by Juniper Research, half of the global population would use digital wallets and other contactless payment solutions, resulting in gross transactions worth over USD 1.5 trillion by 2024.
It has led to eCommerce players going all out on looking for flexible payment solutions that cater to their needs and integrate well with their existing tech while offering a superior end-user experience for their end-users.
The strategic partnerships are beginning to show up one after another. For example, a few months back, Bolt announced that it is partnering with ABG (Authentic Brands Group), a conglomerate housing over 50 major retail brands, including Aéropostale and Forever 21. The agenda of this partnership would be to make ABG truly omnipresent and meet shoppers where they are instead of going the other way round. One of the vital plots of this partnership is that Bolt would help in seamless inculcation of one-click checkout optimized for all the devices throughout the ecosystem.
Forever 21, a youth-focused brand, is the first to receive Bolt's one-click checkout solution. Before, the brand was stuck with Amazon Pay and PayPal only being the one-click checkout solution. With Bolt's integration, the retail brand has been able to aggregate shopper data automatically to help them undertake a one-click or a clutter-free checkout experience.
Shopify has recently announced a strategic partnership with Alipay. The focus would be to optimize its Shop, the one-click payment solution, and unlock the potential of cross-border commerce for all its merchants.
Bold Commerce recently announced its one-click checkout solution compatible with headless architectures for major retailers. Its Bold Checkout: Buy Now would focus on allowing retail brands to rework every checkout process step without sacrificing customer loyalty. Its customer base includes many omnichannel retailers, such as Staples Canada and Harry Rosen.
The democratization of one-click checkout is only the beginning
Gone are the days when one-click checkout was only meant for major retail brands. Today, every brand, irrespective of its size and reach, is looking to embark on clutter-free customer checkouts. The democratization of one-click checkout with the arrival of brands like Bolt and Fast is only the beginning of it all.
These solutions not only focus on speed but are also helping in the creation of a buffet of evolving modern services dedicated to improving the user experience and building a solid users and merchants network.
The retailers are hell-bent on optimizing the online checkout experience and making the most of the stupendous increase in online shoppers. The bet is on solutions like one-click checkout that would help improve the overall customer experience and hopefully brings a decline in cart abandonment as its adoption goes mainstream.