Jan Koum is a Ukrainian-born Internet Entrepreneur who co-founded the mobile messaging application WhatsApp with Brian Acton. Facebook Inc. acquired the top-rated mobile application in 2014 for a whopping US$19 billion. A billionaire today, he is listed amongst the wealthiest Americans, who was once so impoverished that he had to live off food stamps just a few years ago. But with his resilience and grit, he has made his mark on the world.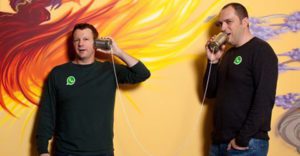 Jan Koum was raised in a small village in Kiev, Ukraine. Born to a mother who was a homemaker and a father who worked as a construction manager for schools and hospitals, he was the only child. His family was poverty-stricken, and his house had no hot water. His parents rarely talked on the phone, fearing that the state might tap it.
When he was 16, Koum and his mother relocated to Mountain View in California due to the troubling anti-Semitic and political environment. With the help of government aid, she was able to procure a tiny two-bedroom apartment. His father unfortunately never made it over and passed away in 1997.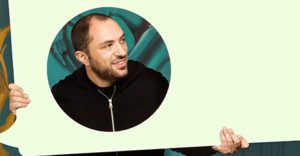 To make ends meet, his mother took up babysitting, and Koum swept the grocery store floor. Unfortunately, his mother was soon diagnosed with cancer, and they lived off her disability allowance sponsored by the state. By 18, Koum had taught himself computer networking by purchasing manuals from a used book store and learnt that he had an inherent knack for it. He joined a hacker group, w00w00, on the Efnet internet relay chat network that helped him learn further.
Jan Koum worked his way through high school to support his family. He found a job at Yahoo as an infrastructure engineer. One day, Yahoo co founder David Filo called him for help. "I'm in class," Koum answered discreetly. "What the fuck are you doing in class?" Filo said. "Get your ass into the office." Filo had a small team of engineers and needed all hands on deck. "I hated school anyway," Koum said. He dropped out soon afterwards. At Yahoo, he formed a rapport with Brian Acton, another Yahoo employee with whom he would develop a long-term collaboration in the future.
When Koum's mother succumbed to her disease in 2000, the young Ukrainian was all alone. He credits Acton with reaching out and offering support. "He would invite me to his house," Koum remembered fondly.
His distaste for advertising was also evident back then; he got pulled in to help launch Yahoo's robust advertising platform, Project Panama, in 2006. "Dealing with ads is depressing," he said. "You don't make anyone's life better by making advertisements work better." In Jan Koum's LinkedIn profile, he unenthusiastically describes his last three years at Yahoo with the words, "Did some work."
After nine long years at Yahoo, he decided he had enough; both Koum and Acton left the job to explore newer avenues.
In January 2009, Koum bought an iPhone and realized that the newly established App Store was about to create a whole new industry catering to apps. He visited the home of a Russian friend, Alex Fishman. "Jan was showing me his address book," recalled Fishman. "His thinking was it would be really cool to have statuses next to individual names of the people." The statuses would show if your battery were low, you were on a call, or you were at the gym.
Early WhatsApp, however, kept getting stuck or crashing. Koum worked over these problems relentlessly, day in and day out, until he fixed all the bug issues.
Koum had another brilliant idea and visited his friend Acton. They both sat at Acton's kitchen table and started messaging each other via WhatsApp, with the famed double check blue tick that showed another person had received and read the message. Acton realized the potential of a richer SMS experience – and more effective than the MMS messages used at the time for sending photos and other media that often didn't work and took forever to load. "You had the whole open-ended bounty of the Internet to work with," he said.
In October 2010, Acton got five friends to invest $250,000 in seed funding into the app; thus, he was granted cofounder status and a stake. He officially joined on November 1.
Five years after its launch, WhatsApp was among the world's most prominent and profitable phone apps. The pair were previously adamant that they would not sell and would continue to build the business by themselves. "I worry about what [an acquiring] company would do with our population," Acton said. "You're never hands-off in the long term. To have someone come along and buy us seems awfully unethical. It goes against my personal integrity." Koum added: "We worked in a large company and we weren't that happy. Facebook, Google, Apple, Yahoo! – there's a common theme. None of these companies ever sold. By staying independent they were able to build a great company." They had never considered an IPO seriously. "It's not an active part of our agenda," according to Acton. "We just want to go back to work, for God's sake. We have bugs! We just have so much going on that we're not planning our exit."
However, Mark Zuckerberg approached Koum in 2012; they met over coffee in Los Altos. Zuckerberg made a formal offer, and the deal was announced on February 19, 2014. $19bn in cash and stock (and a Facebook board seat) alleviated the founders' doubts. In a blog post that year, Koum insisted that WhatsApp "will remain autonomous and operate independently", with "absolutely no ads interrupting your communication".
Koum said in an interview, "I grew up in a society where everything you did was eavesdropped on, recorded, snitched on, I had friends getting into trouble for telling anecdotes about communist leaders. I remember hearing stories from my parents of dissidents like Andrei Sakharov, sentenced to exile because of his political views. Nobody should have the right to eavesdrop, or you become a totalitarian state – the kind of state I escaped as a kid to come to this country where you have democracy and freedom of speech. Our goal is to protect it. We have encryption between our client and our server. We don't save any messages on our servers, we don't store your chat history."
In conclusion, he said, "Our focus remains on delivering the promise of WhatsApp far and wide so that people around the world have the freedom to speak their mind without fear."