Louis Li is a distinguished entrepreneur. Li has created a fearless brand named Jackalope, which is a luxury hotel and has been named by TIME as one of the greatest places on Earth in 2018. Li's incredible creativity has revolutionised the luxury hotel industry.
Louis Li was brought up in Kunming to one of China's wealthiest families. Since he was the only child of luxury hotel developers, he started an unusual journey of success. Louis began his journey as a teenage television actor and host. After spending years in front of the camera, he realised he also wanted to experience life behind the camera.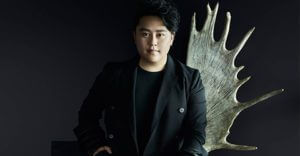 In 2008, Li moved to Melbourne to study filmmaking at RMIT University. When he visited Hobart, a city in Tasmania, he was completely bedazzled by David Walsh's Museum of Old and New Art (MONA). David's artistic creativity was described as, "absurd, mythical and extraordinary that had mass appeal without compromising artistic vision," by Li. After this visit, Li knew that he wanted to pursue an extravagant hotelier life. He etched David's creativity in his mind and started working to create something as mysterious and unique as the MONA.
Li had visited Berlin earlier for a film festival and had come across a sculpture of a jackalope at an antique shop. He was engulfed by the mythical and enigmatic piece and inspiration struck; he knew that his hotel had to be called Jackalope. Looking back at why the Jackalope resonated with him, Li said, "A creature so rare it exists only in myth is the perfect symbol for my hotels." To date, Li believes that this was his most significant trip.
With these two distinguished and metamorphic experiences in mind, Li set out to make one of the world's most unique and luxurious hotels.
When Li heard that Willow Creek was on sale in 2013, he knew that this was the perfect location for him to create a revolutionary, surreal and modern hotel in the rural landscape. He reached out to his family for help to finance his passion project and they agreed. Li combined his inherited skill of creating luxury with his passion for immersive storytelling.
"It is quite a personal journey rather than a corporate one. The beauty of Jackalope is that it does not have a formula, it cannot be copied because it is in my mind," remarked Li.
The hotel first began as Li's figment of imagination, he pictured it to be a place where people came to engage their creative core and become the best versions of themselves. With the help of architects, designers and artists, Jackalope became a heaven for the rich, artistic and cultural.
With a monolithic, jet-black exterior, the hotel stands in sharp contrast to the greenery surrounding the region. This juxtaposition demonstrates the hotel as a mythical creature – part-jackrabbit, part-antelope – that exists only in folklore.
One of the key points of difference of the Jackalope property is the deep connection between hospitality and art. "For example, we have a 10,000-lightbulb installation to show the bubbles of the fermentation process. All our artworks are from local artists, so we invite guests to be part of our story," said Tracy Atherton, General Manager of Jackalope.
The theme of the hotel is 'alchemy', and this idea of the alchemic, wine-making process permeates the whole journey inside, from the glass apothecary-style tubes on display in the bar, to the 10,000 amber-hued light globes covering the ceiling of the restaurant to make it an extraordinary experience for every guest. The hotel was named as Gourmet Traveller's 'Hotel Of The Year' within only six months of opening and became 'Regional Hotel Of The Year' as well.
"You have this rural scene of poetic rolling hills of vines but it is suddenly like a spaceship has landed on the land; it is rebellious, it's imaginative, it's mysterious," commented Li on the luxurious country getaway. 
With the success of Jackalope, Li is looking to expand his business ventures. Li has created a weather-themed 10-storey hotel with artificial clouds across the hotel. To be launched in 2022, this hotel will be located in CBD Melbourne. Li was also able to partner with Random International, an organisation that created a weather-based art installation called the Rain Room. This Rain Room allows visitors to walk between raindrops without getting wet. Li first experienced the Rain Room in Los Angeles and was completely astounded with the possibility of having it in his next venture.
He then plans to take over the hotel industry in Shanghai followed by Los Angeles within the next couple of years. "My ultimate aim is to turn it into a global brand and I would like to start with my three favourite cities and split my time evenly between the cities until I am 35," said Li.
He wants to continue exploring the field of filmmaking as well, "I still want to do it, I just want to park it, and I think hotels are a good exercise of leadership and creative practice as well." Li added, "I don't see this as a delay of my dreams but as a pathway or culmination of my dreams."
With art and authenticity always at the core of everything he does, Louis Li continues to inspire the world with his extraordinary creativity and talent. He serves as a reminder that while the unconventional can be risky, with passion and hard work, anyone can achieve great heights. In his words, "You have to be a dreamer. If you think about the consequences too much you compromise the vision."