Marie Kondo is a globally famous decluttering and organization consultant known for her famed KonMari method. She is a Best-Selling Author and was featured in a successful Netflix Reality Series that has established her as a cultural phenomenon across the globe. Marie was also featured in TIME's '100 most influential people' in 2015 and Fortune's 40 under 40.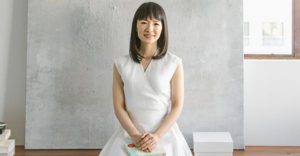 Marie was born in Tokyo in 1984 and was interested in organizing from her early years. She would always find herself trying to tidy up bookshelves and volunteering to be the bookshelf manager while her classmates played sports and became class representative. She would actively search for homemaking magazines and research new ways to organize. To practise tidying methods, she would clean her brother and sister's rooms and then proceed to clean her friends' houses and rooms too.
Marie went on to study sociology at Tokyo Woman's Christian University but never let go of her passion for organization. She often offered tidying help to her friends and even wrote her college thesis on decluttering! It was titled, 'How to Declutter Your Apartment —From a Sociological Perspective.' Marie's capstone thesis was also titled, 'Tidying up as seen from the perspective of gender.' Marie's unwavering passion also led to her spending her 18th birthday in the national library, to examine its large collection of organizational books. At 19, she was finally able to start tidying full-time when she opened her organising consulting business. Before she knew it, she had a six-month waiting list and now a multinational empire.
On reminiscing about her organizational breakthrough, Marie said, "I was obsessed with what I could throw away. One day, I had a kind of nervous breakdown and fainted. I was unconscious for two hours. When I came to, I heard a mysterious voice, like some god of tidying telling me to look at my things more closely. And I realized my mistake: I was only looking for things to throw out. What I should be doing is finding the things I want to keep. Identifying the things that make you happy: that is the work of tidying."
Marie's famous method of organising is known as the 'KonMari' method. The KonMari method preaches first gathering together all of one's belongings, dividing those into categories, evaluating one category at a time and only retaining items that 'spark joy'. The process of only retaining items that 'spark joy' is known as tokimeku. Tokimeku translates to 'flutter, throb, palpitate' in English. A place is then chosen to store these joyful items and that location should be maintained. Marie believes that this method effectively, quickly and completely helps you organize.
Marie's fame has also accelerated because of her unusual borderline spiritual method of cleaning. Marie makes sure to always greet the space before tidying it. She also thanks objects for their service before throwing them away. Marie has also become easily recognizable with her signature pose of keeping her right hand pointed up and one foot lifted behind her with joy. Herunparalleled philosophy, dedication and passion have attracted clients from across the globe.
Her website, KonMari.com, helps clients connect with Kon-Mari certified consultants in various ranges of categories. This range includes Certified Green (10 tidying sessions with two clients) to Certified Master (500 tidying sessions with 50 clients). KonMari has also diversified into becoming a lifestyle brand. Through the brand, Marie sells 'Hikidashi Boxes' which are also tidying with four aspects in consideration: clarity, wonder, balance and harmony. The brand is also currently working on developing more products. "Our goal is to help more people tidy their spaces by choosing joy," states KonMari's mission statement. "We are committed to developing the simplest and most effective tools to help you get there."
Her inspirational work ethic and fascinating ideas led to her signing an astounding book deal. Her first book, The Life-Changing Magic of Tidying Up was published in Japan in 2010 and was immediately a household favourite. After tremendous success, it was published in the United States in 2014 and became a New York Times bestseller. Since then, the book has been published in multiple languages and has sold over 8 million copies worldwide. Marie's methods immediately generated notable public interest and led to her earning a spot in TIME Magazine's list of '100 most influential people in 2015'. Marie was also interviewed across the globe, from Ellen DeGeneres to Vogue. In 2016, Marie also published a follow-up titled 'Spark Joy: An Illustrated Master Class on the Art of Organizing and Tidying Up'. Both books preach the KonMari method and have been loved across the world.
Her immense uniqueness and expertise also helped her host her own Netflix series titled 'Tidying Up with Marie Kondo'. In the series, Marie visited American houses and helped them declutter and transform their homes. Marie reinforces her lifetime pursuit of tidying and providing the niche service in the Netflix series intro by saying, 'My mission is to spark joy in the world through tidying.' The series created distinguished success and Marie was also nominated for the Primetime Emmy Award for Outstanding Host for a Reality or Competition Program.
Marie's unshaken dedication and passion has astonished millions worldwide. Her ability to turn her niche interest into a multimillion empire independently and commitment to provide sincere service with the aims of improvement in lifestyle have been truly commended and cherished.